Deirdre Albrighton - Director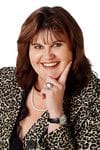 Deirdre began her career in the Arts and has never shied away from the creative and different. As a Management Consultant, Project Manager and Trainer with over 25 years experience in both Public and Private companies, Government Departments, state and federal, and as the Director of her own business, Deirdre has always explored new and innovative ways to deliver training more effectively, expand people's thinking and get the most out of every development opportunity. 'Trust is the foundation of any relationship' says Deirdre. 'If our partners trust us with the development of their people, they have just handed us the most expensive part of their business. We don't take on this responsibility lightly'. Deirdre has a Graduate Certificate in Public Sector Management and Bachelor of Arts from Flinders University in Adelaide, with majors in Sociology, Policy and Public Sector Management. An experienced facilitator, business coach and project manager, Deirdre works with her clients to ensure the services provided are high value and sustainable over time.
Some of the clients Deirdre has consulted and delivered training solutions to include, Bluescope Steel, Queensland Health, Department of Immigration, Brisbane City Council, RAAF, Strata Data, Mitsubishi Motors Australia and Dealerships, South Australian Government, DFEEST, Safework SA, Dimension Data, Nyrstar Port Pirie & Hobart, Hugh Hamilton Wines, Ink on Paper, Betta Electrical, Hunt Energy, Adelaide Airport Limited, Learning Seat and Marion Council, Yankallia Council, City of Charles Sturt, Dementia Australia, SA Native Title, to name a few.
Deirdre is available to consult to your business on management consulting strategies, psychometrics, flexible learning options and performance development services to get the best from your teams.
Call today for a coffee and a chat - the coffee is on us.