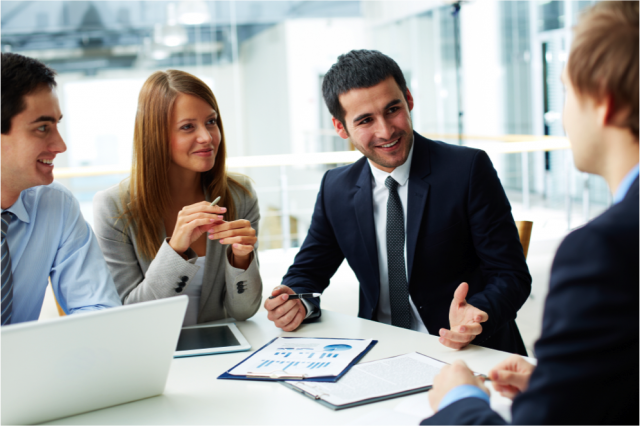 Are you new to leadership? Are you in a leaders role but don't feel like anyone is actually following your lead? Are you on a succession plan for a future leadership role or are you just wanting to enhance your community or group leadership skills?
Leadership starts with being able to lead yourself. Only then can you become an authentic and impactful leader. To be a great leader, you require the ability to focus, make decisions, drive change, find and motivate the right people while staying flexible and persistent.
The Leadership Development Program
provides high potential leaders the frameworks to set themselves apart from the rest of the crowd, make decisions and lead with confidence. Participants will gain and understand critical areas and their interconnection as well as develop skills needed to lead in a number of settings including, teams, cross function teams and in the virtual business setting. People attending our Leadership Development programs unleash their real leadership capabilities and take action. Our programs are hands on with real life situations and hard conversation about the sometimes harsh reality of being a leader.
Who should attend?
Supervisors – managers – business owners – volunteer coordinators – sports coaches – community persons – councillors – WHS representatives – educators – principals – CEOs - CFOs – COOs – project managers – HR Managers – Board members – PARENTS
Great leaders don't develop followers, they develop new leaders.
The Program consists of 6 face to face workshops were you will be given the opportunity to learn some valuable leadership skills, hear from motivational leaders, a weekend residential workshop as well as exciting networking opportunities with other likeminded leaders.
During this program you will learn:
An analysis of your own personal style and preference as a leader as well as an emotional intelligence report with a personal debrief session with the coach.
Why should people follow you? What type of leader are you and if you are a manager, does that make you a leader? Can you be both? What about leadership in the community or volunteer roles? What is your leadership style and what works and what doesn't?
An understanding of your team style and how to ensure you have the right 'mix' of people around you to ensure success. We will look at Belbin's Team styles and how they apply today to the workplace, project team, community group or department.
Difficult conversations about performance, positive performance and giving and receiving feedback. What to do when this brings conflict, how to manage it and is it always a win?
There is one constant in life and that is change! Or so they say. But how do people react to change, how do you manage it, plan for it, deal with the consequences and bring people along for the journey? After all it's all about the people isn't it?
A residential where you will practice some of the skills covered, develop a leadership plan for yourself and work with a team to ensure you have the right mix of skills and understanding to be the best leader you can be. This session will include some outdoor activities, networking, fun, great food and a coaching plan for you to explore.
A Graduation Program will be held where your achievements will be recognised and we celebrate your success!
Workshop Information
Cost: $1990+GST (Includes lunch, morning & afternoon tea during workshops and a participant resource leadership folder)
Session Dates:
Wednesday 29th of October 2014
Wednesday 26th of November 2014
Wednesday 21st of January 2015
Wednesday 25th of February 2015
Wednesday 25th of March 2015
April 2015 (Residential)
| | |
| --- | --- |
| Venue: | 17 Beach Road, Christies Beach SA 5165 |
| Starting: | 9:30 AM |
| | Wednesday 29th October 2014 |
| Ending: | 4:30 PM |
| Phone Enquiries: | 08 8186 3600 |
| Email Enquiries: | kirra@albrightonconsulting.com.au |