Meet the Team
Deirdre Albrighton - Chief Executive Officer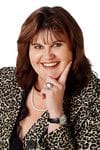 Deirdre began her career in the Arts and has never shied away from the creative and different.
As a Management Consultant, Project Manager and Trainer with over 25 years experience in both Public and Private companies, Government Departments, state and federal, and as the Director of her own business, Deirdre has always explored new and innovative ways to deliver training more effectively, expand people's thinking and get the most out of every development opportunity.
---
Kirra Comley - Office Manager
Kirra has developed an extensive range of skills and knowledge with her background in Business, Training & Development, Human Resources and Hospitality. Kirra has spent much of her career working within the Private and None-Profit Education & Training Sector which has included working with Traineeships & Apprenticeships.
Kirra is currently working as the Office Manager for Albrighton Consulting looking after our Staff, Clients and Student needs. She is also responsible for the quality control and reporting of the RTO arm of the business.
---
Brianiee Albrighton - E-Learning Developer
Brianiee has a Degree in Biodiversity and Conservation and a strong background in Environmental Management. She is also a Volunteer Campaigner for The Wilderness Society South Australia
She is currently working as the E-Learning Developer for Albrighton Consulting and has extensive skills and understanding in developing high quality and interactive on-line learning resources. She is able to assist you in developing contextulised e-learning programs covering, WHS programs, Short Courses, On-line Compliance Training as well as a wide range of other topics.
---
Adrian Nippress - Facilitator
Adrian has developed a broad range of skills and capabilities based on 20+years of experience within the Public and Private Sectors.
This has included many roles where Adrian has either supervised or managed a mixed group of professional staff, who have had different qualifications and work experiences (ranging from legal, social work, advocacy, teaching and counseling), along with a range of experienced clerical staff.
---
Leigh Aitken - Facilitator
Leighs extensive experience stems from 25 years working as a senior manager for local, national & international organisations.Leigh has worked in Retail, Tourism, Hospitality, Transport, Warehousing & Distribution, Marketing, Advertising & Sales.
He is recognised as a creative thinker, an entertaining presenter & an articulate communicator. He possesses strong negotiation skills & delivers training in a fun, relaxed atmosphere that engages participants to maximise the learning experience.
---
Kate Reynolds - Facilitator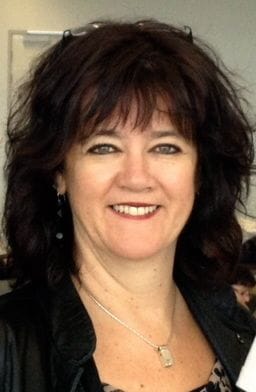 Kate has had her own business for 17 years. She also worked for 10 years in the not for profit sector and in the government sector and spent six years as an elected member (in local government and then the SA Parliament).
Kate helps small not-for-profit organisations work smarter, not harder.
---
Kate Hartwig - Facilitator
Kate has had a long career in the not-for-profit sector having been CEO of a range of industry, professional and charitable organisations in Adelaide, Sydney and Melbourne.
She has now launched her own consultancy, providing advice, training and assistance on not-for-profit and small business management including good governance, strategic and operational planning and organisational development.
---
Community Involvement

Albrighton Consulting is committed to being a Child Friendly Charter Participant through the Communities for Children Onkaparinga Child Friendly Charter.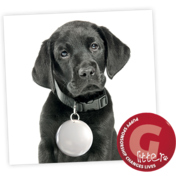 Guide Dogs SA/NT Sponsors - Current Litter "G"
Albrighton Consulting are continued and proud sponsors of the Guide Dog Puppies. The Gorgeous G litter is the eighth group of puppies to be born at the Guide Dogs' Puppy Development Center. They love exploring every nook and cranny of the Center discovering all sorts of new sounds, smells and people. Our Puppy Raising Advisors know that their inquisitiveness and confidence will be great traits that will help them become capable Guide Dogs and Autism Assistance Dogs.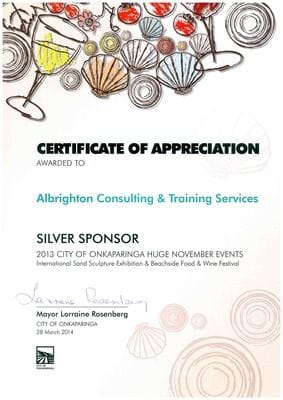 Silver Sponsor
Albrighton Consulting are proud Silver Sponsors for the 2013 City of Onkaparinga Huge November Events (International Sand Sculpture Exhibition & the Beach Side Food & Wine Festival)